LAKE HIAWASSEE
---
Surrounded by the Nantahala and Cherokee National Forests, the Hiwassee Reservoir on the Hiwassee River serves as a rich habitat for deer, wild turkey and other animals.
The deep, beautiful Hiwassee Reservoir has a flood-storage capacity of 205,600 acre-feet. It has two generating units with a net dependable capacity of 194 megawatts. It is surrounded by the Nantahala and Cherokee National Forests.
Hiwassee Reservoir is located on the Hiwassee River in western North Carolina, stretching 22 miles northwest to southeast. It is immediately upstream from Apalachia Reservoir, which features a day-use park that provides access to boating, fishing and paths for exploring the Hiwassee Reservoir and its tributaries.
The Hiwassee Reservoir is exceptionally beautiful and well suited for canoeing, rafting and learning the basics of whitewater boating. The flow of water in the reservoir comes from deep below the surface and is chilly, even in the summer.
Hiwassee: Facts + Figures

- In addition to recreation, Hiwassee Reservoir serves a number of other purposes, including flood damage reduction and power generation.

- Construction of Hiwassee Dam began in 1936 and was completed in 1940.

- The dam is 307 feet high and stretches 1,287 feet across the Hiwassee River.

- Hiwassee Dam is a hydroelectric facility. It has two generating units with a summer net dependable capacity of 172 megawatts. Net dependable capacity is the amount of power a dam can produce on an average day, minus the electricity used by the dam itself.

- Built in 1956, Hiwassee Unit 2 is also a pump-turbine, and can pump water from the river downstream back up to the reservoir, which helps TVA's power system load balancing. This was the first and most powerful pumped storage unit in the world at its time.

- In a year with normal rainfall, the water level in Hiwassee Reservoir varies about 43 feet from summer to winter to provide seasonal flood storage.

- The reservoir has a flood-storage capacity of 205,600 acre-feet.

- Find Hiwassee Dam at 600 Powerhouse Rd., Murphy, N.C.
In Murphy access is available to the Hiwassee River. This Class I and II whitewater river is 18.3 miles long with a 3-mile stretch designated as a Trophy Trout Stream. Family rafting and tubing trips can be arranged by outfitters in the area. Because Appalachia Lake has no developed recreation areas, it is an excellent option for those seeking solitude during the busy summer season.
Directions: To Hanging Dog Recreation Area, from Murphy travel 4.4 miles northwest on Peachtree Road which later becomes Joe Brown Highway. Entrance to Lake is on the left.
Fishing: The National Freshwater Fishing Hall of Fame lists a record catch of a 54-pound striped bass from Lake Hiwassee. Other fish within the reservoirs include bluegill, yellow perch, and muskie.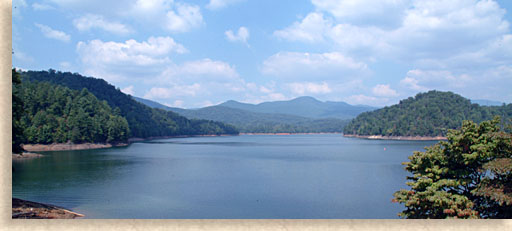 Presented Exclusively By:
Corky and Kathy Vetten
Corky- 828-361-0358
Kathy- 828-361-0360
kathyandcorky@gmail.com